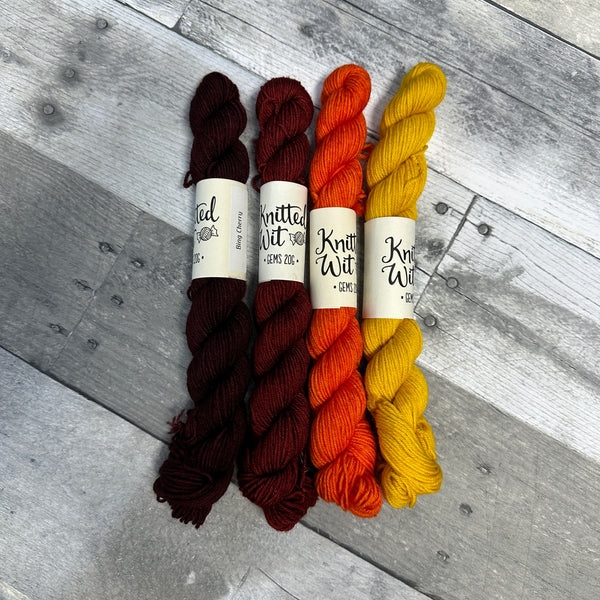 The Squirrely Mitts by Amy Gunderson are a fun way to play with color. 
The mitts themselves are straightforward to make, and you can use one of our curated bundles below, or let us choose for you and be surprised. 😉
(Pattern is available on Ravelry; not included with bundles)
There are 3 bundle size options:
Knitted Wit Gems (20g/92 yds) in 4-color combos (make the mitts with larger stripes or repeat colors)
Knitted Wit Gems (20g/92 yds) in 8-skein bundles (knits the mitts as written but have you will have enough for 2 pairs of mitts)
Madelinetosh Unicorn Tails in 8-skein bundles (knit the mitts as written)
**Note: Hand-dyed yarns vary from skein-to-skein and more so from batch-to-batch. We recommend that you purchase enough yarn at once to complete an entire project. Also, when using hand-dyed yarns in a project that requires more than one skein, we recommend alternating skeins every other row to even out any differences.
Knitted Wit Gems:
| | |
| --- | --- |
| Fiber: | 75 superwash merino, 25 nylon |
| Gauge: | fingering (1), 8 sts/inch |
| Needle: | US 2 (2.75mm) |
| Hook: | B-C |
| Weight: | 20g (0.7oz) each skein |
| Yardage: | 92 each skein |
| Care: | machine washable, dry flat |
Madelinetosh Unicorn Tails:
| | |
| --- | --- |
| Fiber: | 100 superwash merino |
| Gauge: | fingering (1), 7-8 sts/inch |
| Needle: | US 1-3 (2.5-3.25mm) |
| Hook: | B-C |
| Weight: | .4oz |
| Yardage: | 52 |