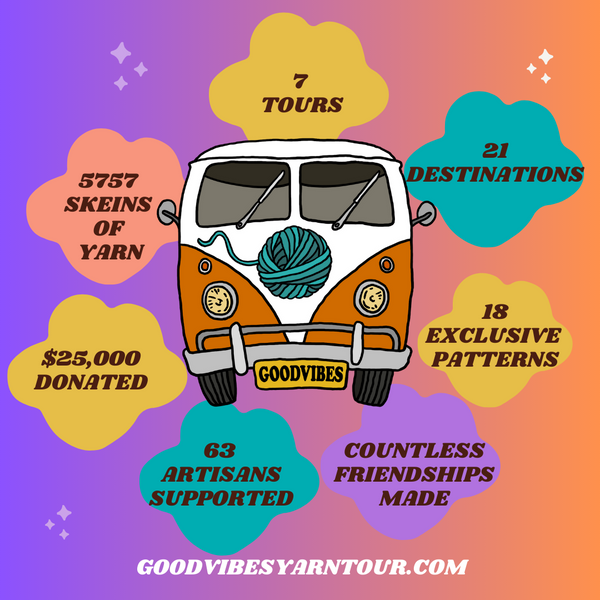 Get Ready for an Unforgettable Knitting Adventure: Join the Good Vibes Yarn Tour!

Attention knitters! Cadence, Sarah, and Janet, the rockstars behind three legendary yarn stores, have crafted the ultimate knitting experience: Knitting Getaways 2024
"Janet, Cadence and Sarah put so much thought & love into the boxes, it's like getting a care package from your best friend every time." L.G.
Are you ready to go? Let's pack up!



Tickets are available until November 30, 2023
But wait, what exactly is a Yarn Tour?
Imagine a three-month knitting party featuring not one, not two, but THREE virtual shows that will have you on the edge of your seat and begging for an encore! At each stop we sneak backstage with our headlining yarn dyer, exchange tips and tricks, and indulge in a souvenir shopping spree with an outrageous 20% discount.

Knitting Getaways Tour Dates (all shows are recorded): February 11, March 10, April 14 
This is the Ultimate Knitting Showstopper - It's More Than Just Yarn!
But here's the true magic of the tour: It's the incredible people we meet along the way that truly make this tour a one-of-a-kind experience. Our groupies share not only their skills and laughter but also the most generous spirit, forming bonds that rock harder than any band on stage. We've built a community that feels like family, and you're invited to join the fun!
"Love the wonderful things in the surprise boxes! But my favorite has been the zoom meetings – the videos and meeting the designers and getting to meet all the people on the trips." Ginnie
Show Highlights:
Behind-the-Scenes Videos with your Dyer

Live interviews

Knitting Tips and Demos

Travel Highlights


Inspiration from fellow groupies
Souvenirs at Each Stop:

two exclusive skeins of yarn inspired by our travel destination

a pattern designed specifically for our yarn by the Good Vibes Girls themselves (Sarah, Janet, and Cadence)

swag - we love our logo

20% off a shopping spree at three local yarn stores

a local snack, to give you a taste of the place


general good vibes ✌🏻
Get on Board!
Get your knitting needles in tune because the Knitting Getaways tour is about to blow the roof off with creativity and excitement!! The first box will hit your doorstep in February, and let us tell you, it's going to be a-rockin'.
"Got my box today!!! It was a really tough day at work, and I can't tell you how much I squealed with glee when I saw the contents. This colorway is BEAUTIFUL" Judi
Let the Good Vibes Yarn Tour take you on a knitting adventure like never before!
🌟 
🌟 🌟 🌟 🌟