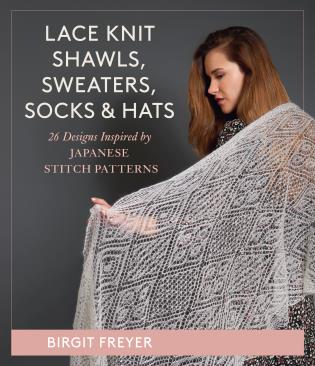 Lace Knit Shawls, Sweaters, Socks & Hats: 26 Designs Inspired by Japanese Stitch Patterns
by Birgit Freyer
Lace for every day!
Knitted lace pieces are stunning, but that is no reason to save them for only special occasions. The 26 lace patterns in this book are designed to showcase your stitches in pieces that can be worn anywhere. They incorporate Japanese lace stitch patterns to beautiful effects in pullovers, socks, shawls, hats, mitts, and more, in infinitely wearable patterns. Knit in neutrals, these pieces are easy to pair with items in your closet; knit in fabulous colors, they are showstoppers!
A little unsure of your lace-knitting skills? Have no fear! In addition to the patterns, the book includes an illustrated introduction to lace knitting stitches and charts, and an introduction to sock knitting. The skill level of each pattern is designated, so you can start with a pattern within your comfort zone and build your skills as you go. Get ready to fill your wardrobe with a selection of gorgeous lace knits!
Publisher: Stackpole Books (December 30, 2022)
Language: English
Hardcover: 152 pages
ISBN-10: 0811770982
ISBN-13: 978-0811770989
Item Weight: 1.73 pounds
Dimensions: 8.26 x 0.74 x 9.36 inches