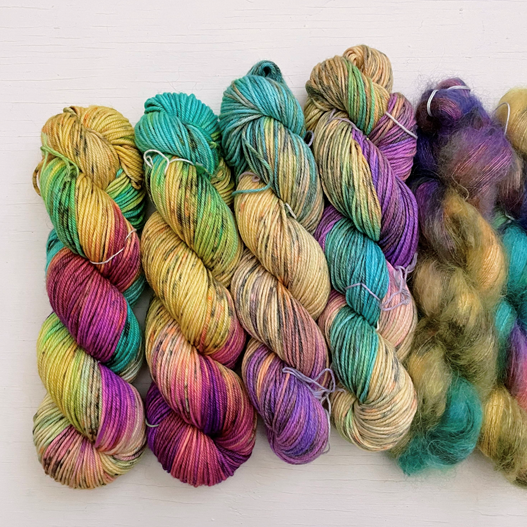 Sign up and save! 
Subscribe to the madelinetosh Hue-of-the-Moment club, and save $2/skein each month! We only get a limited number of these special skeins, and by subscribing you guarantee your skeins before they sell out!
The HOTM club offers limited edition colorways not available everywhere. You can choose as many skeins as you'd like of either base (Tosh Merino Light or Tosh DK) - or choose both! 
At the beginning of each month you will be automatically billed for your subscription and we will ship the hottest new color off to you. 
Your subscription commitment has a 3-month minimum; after 3 months you can cancel or pause your subscription from within your account settings. 
(Sample colorways are pictured; each new month's HOTM colorway will be a surprise.)
**Note: Hand-dyed yarns vary from skein-to-skein and more so from batch-to-batch. We recommend that you purchase enough yarn at once to complete an entire project. Also, when using hand-dyed yarns in a project that requires more than one skein, we recommend alternating skeins every other row to even out any differences.