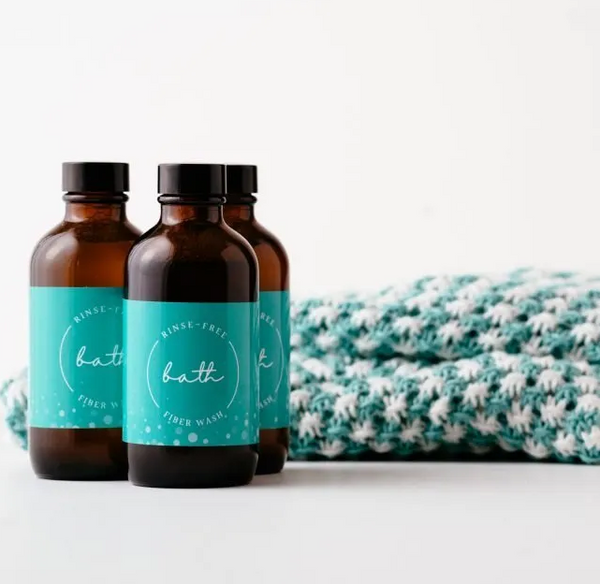 Only ships via Priority due to extra packaging and handling for shipping liquids.
Soak, soften and refresh your knits – the Olive Knits way!
Bath Fiber Wash is a safe, gentle, rinse-free softening wash that's gentle enough for all of your favorite fibers. It's perfect for blocking your new knits, refreshing sweaters that have been sitting in storage, and washing your garments. You can even use it on your delicates!
Use about 1 Tbsp Bath Fiber Wash for 2-3 gallons of warm water (if you're using less water, use half the amount of Bath fiber wash). Bath Fiber Wash is concentrated and contains the highest quality, safest, and most environmentally friendly ingredients available.
Details
4 fluid ounces
Amber glass bottles
2-year shelf life
Lanolin-free, vegan ingredients
As gentle as baby shampoo
Dyer tested and approved
Directions for Use
Shake bottle gently
Fill a basin with warm water
Add between 1/2 – 1 Tbsp of Bath Fiber Wash to your water
Submerge your garment and swish gently
Let soak for at least 30 minutes, then drain
Express water, roll your garment in a towel and dry flat
Ingredients
Distilled water
Coco-Glucoside (natural surfactant & cleaning agent made from coconut).

 

Notes:

 

Certified Vegan, Kosher, completely biodegradable, GMO-free, and contains no parabens or phthalates
Organic vegetable glycerine (softening).

 

Notes:

 

Certified Organic USP Grade, Certified Vegan, Certified Kosher, GMO-free and allergen-free derived from organic vegetable oils
Phenoxyethanol, Caprylyl Glycol (natural preservative).

 

Notes:

 

Formaldehyde-free and paraben-free
Organic essential oils and/or fragrance.

 

Notes:

 

Vegan and Kosher Certified, and all essential oils are also QAI Certified Organic. All fragrances are paraben-free and phlalate-free.