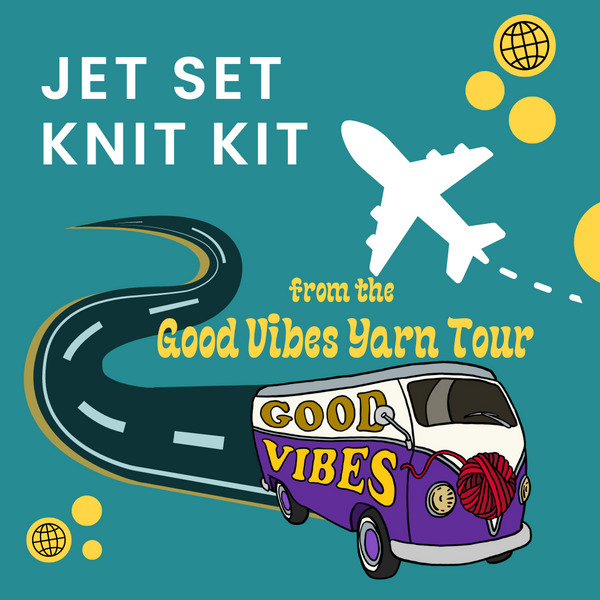 This product ships from the Good Vibes Yarn Tour directly, and is not available for in-store pickup. Additional shipping may apply if mixed with in-store products.
The Good Vibes Yarn Tour is all about exploring new places, projects and yarn from the comfort of your couch. However, once in a while, we know you get the opportunity to take a trip in real life.

For those moments, you need the perfect travel knitting project. This is it.
Before a big trip or a weekend away, you probably spend more time planning out your projects than you do your wardrobe. Let us help. 
We've combined our years of experience knitting on the run to come up with our favorite travel projects, useful tips and beautiful yarns. This kit makes even long stretches of highway, or hours on the tarmack a delight.
Order a kit now so that you are prepared for your next trip.

Our Jet Set Knit Kit includes:

One skein of hand-dyed fingering weight yarn from AT Haynes House Yarn

A list of our favorite one-skein travel projects (both knit and crochet)

A Good Vibes exclusive progress keeper to keep track of how much you've accomplished

A needle keeper to make sure that your stitches don't fall off between stops

A project bag to keep your yarn and supplies in one place

Top 5 Tips for Travel Knitting

A "travel knitter" button to proudly pin to your bag

A treat to keep your strength up
A week or two before you leave, open up your kit:

Read through the Top 5 Tips for Travel Knitting.

Review the pattern suggestions and choose one that looks like fun.

Locate the appropriate needle/hook and notions and put them in your project bag.

Wind your yarn.

Resist the temptation to finish off your snack.
Note: Your colors may differ from the picture. We want you to experience the joy of a good surprise when you open your package.